How to play the game "Venus McFlyTrap Makeover Game"?
There's a new Monster High girl passing through the doors of our beauty salon in our girls' games! Drum roll please... it's Venus McFly trap! This monster is the girl to call if you want to know anything about plants, trees and nature, and this weekend she's representing the school at a monster ecology seminar. Unfortunately, she's woken up with more spots than a ladybug - can you help her out with an emergency makeup session in this Monster High game? Read more
Daub Venus McFlyTrap's face with organic beauty products, sort out her bush of hair and dress her up in this Monster High makeover game. With a touch of make up and a brand new outfit, this monster girl will look professional and stylish as she presents her work at the ecology seminar. Which Monster High star is your favorite? Leave us a comment to tell us, and make sure you check out the Celebrity section for more beauty and makeover games with the girls!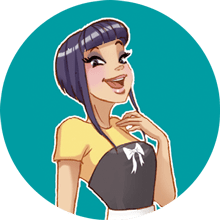 Venus McFlyTrap Makeover Game is one of my favorites! We clearly have awesome taste! Come and play more of my fave monster high games!