How to play the game "Twister Game"?
Have you ever played Twister with your friends? It's loads of fun! To play Twister you need a big white board with colored circles, a wheel to spin, and lots of friends! Thanks to our games for girls you can now play an online version of Twister, totally free! This free animal game stars a cute chameleon, and to play Twister with him you need to click on the colored icons on the left of the screen, and then on the insects that he wants to eat. Think you can manage to gobble up all the bugs in this animal game? Read more
You need to pay attention in this online Twister game and make sure you don't give the chameleon an insect of the wrong color, otherwise you'll lose loads of points! You'll have tons of fun with this online animal game, and keep browsing the girls' games on the site for lots more surprises!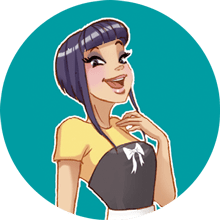 Twister is one of my favorites! We clearly have awesome taste! Come and play more of my fave free games!