How to play the game "Time for Tea Dress Up Game "?
Have you heard of the tradition of tea parties? The most popular drink in England is tea. People drink it throughout the day; whether it's in the morning when they get out of bed or at lunchtime with their sandwiches. Tea parties are more of a high class occasion though, and will take place in the late afternoon. People don't just sip tea, they eat lots of delicious food like biscuits, sandwiches, cakes, scones and buns...delicious! In this dress up game for girls, we're hanging out with Amy, a girl from London. Every Sunday she meets with her friends in a tea garden to chat and drink tea. How lovely! Read more
Amy's problem in this dress up game for girls is that she goes to the same place every week with the same girls, so she's starting to run out of ideas on what to wear. She needs your help to bring some fresh ideas to her style. Choose a new dress and accessories for Amy. You'll notice that the clothes have a very British style; all crisp, smart dresses and fancy hats. Just like Kate Middleton! Don't forget, when Amy is dressed, you must choose a teacup for her to sip her lovely tea from, and then decorate a table full of treats. Decorating a tea party table is such fun, because there are so many sweet snacks to choose from. Wow, we wish we could take some tea with her!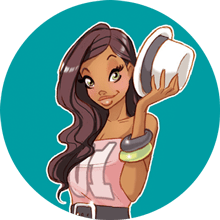 You're clearly loving Time for Tea Dress Up Game - you should check out my pick of the best dress up games!