How to play the game "The car race Game"?
Welcome to the start of the Great Female Rally Race! Yes, girls can also play in racing games and sports like this great car game and lots more racing games on mygames4girls.com. In this racing game you'll be able to choose between 2 modes in this race. The first phase of the racing game is the training mode. there are various circuits which will take you along in the various parts of Lizzie's house - the person who organises the races! On each ciruit you'll need to gain points and get bonuses or collect the small clocks which earn you extra time. But there are also obstacles to acoid, like the puddles of oil, or the nails in the road. Read more
Once you're well trained, you can start your career as a racing driver. You'll be able to play in the second mode (Challenge Mode) where there are 5 circuits to do. The speed and difficulty gets higher with each course, and you'll also see the scenery and decorations changing around you. We're counting on you to show the world that girls are just as good as boys at these fun racing games so... on your marks, get set, GO!!!!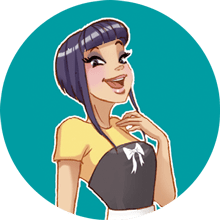 The car race is one of my favorites! We clearly have awesome taste! Come and play more of my fave racing games!