How to play the game "The Best Love Tester Ever Game"?
Hello girls! It's Lee again. I have a little problem. The truth is, I think I'm really starting to like a guy, but don't know if we can be more than just friends. I'm so confused! I told my best friends from MyGames4Girls.com, Lea and Lilou the other day, but they're clueless when it comes to love too! If only I could look into the future... Read more
When it comes to matters of the heart, we have to rely on fate. However, I have found this incredible love tester game! These beautiful swallows really can look into your future and tell you what will happen with your crush! Simply enter your names and find out if he is your perfect match. Ooh, we can hardly contain our excitement! If you can't make your mind up between several guys, you can even compare them with each other! Wow, this has cleared up a lot of doubts for me. What about you girls? Is your love for real?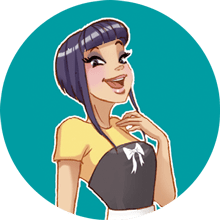 The Best Love Tester Ever is one of my favorites! We clearly have awesome taste! Come and play more of my fave love games!