How to play the game "The after-school club for our boys and girls Game"?
If you like the rest of our dressing-up games for girls on mygames4girls.com, you'll love this one! Here there is not one, not two, but THREE characters. Two of them are girls called Christina and Barbara, and one boy called Peter. They are going to an after-school club together this afternoon so they need to get ready. They all have really different styles, so try to dress them all really differently. They'll need to have their hair done too once they have got dressed so you're in charge of that too. Be their hairdreesser for the day. Read more
They'll all want to be nice and relaxed in their clothes because they'll probably have to do lots of running around and playing with their other friends at the club, so make sure they're wearing comfy clothes!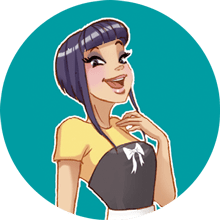 The after-school club for our boys and girls is one of my favorites! We clearly have awesome taste! Come and play more of my fave dress up games!