How to play the game "Smarties Birthday Muffins Game"?
Ruby the chef is on vacation. She spends a lot of time in the kitchen of her restaurant and works very hard, so a nice break is long overdue! In fact, she has decided that she would like to take a nice vacation and relax on the beach...it will be bliss! Uh oh, not so fast Ruby...aren't you forgetting something? It's your daughter Naomi's birthday! Quick! To the kitchen! Can you whip up a batch of her favorite birthday treat, Smarties muffins? Read more
Luckily, Ruby loves baking cakes, and this is a very simple recipe that's perfect for any girl's birthday party! All kids love Smarties, right? For the cake batter; you'll have to mix butter, eggs, flour and sugar in a blender. When you've finished cooking the chocolate sauce, make sure you pour it carefully into the moulds. Now, they're missing the final touch, can you remember what that is? Smarties of course! Happy birthday Naomi! Try not to eat too many muffins...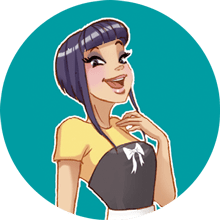 Smarties Birthday Muffins is one of my favorites! We clearly have awesome taste! Come and play more of my fave birthday games!