How to play the game "Roxie à la plage Game"?
For this animal game, even in the world of dogs that are girls who love to look beautiful for the boy dogs. Roxie is one such dog, she loves to spend her time on te beach and is always trying to look great so that the other dogs will notice her. In this dog game you need to help Roxie to find an original outfit to wear on the beach, but also a great swim suit for when she decides to jump in and go for a swim in the sea. Maybe you should also give her a hat so that she doesn't get any sunburn. Read more
For each of these outfits you've also got shoes to match in this game for girls. This dress up dog game will make you want to go to the sea or the beach too, and if you like this kind of dress up game there are lots more. There are even lots more fun animal games too. Whil you're waiting, why not email your friends with the address www.mygames4girls.com, so that they can come and play too!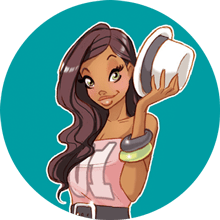 You're clearly loving Roxie à la plage - you should check out my pick of the best dress up games!