How to play the game "Perfume Puzzle Game"?
Anna is a very stylish girl who loves perfume and who has been collecting different fragrances since she was little. This organized girl always keeps her belongings neat and tidy, and her perfumes are carefully arranged in just the right order. But something terrible has happened in today's girls' games: her little brother has sneaked into her room and messed up her perfume collection! Now everything is a mess and Anna is really angry... can you help her tidy up in this puzzle game for girls? Read more
You'll need to concentrate really hard on the task at hand if you want to complete this online puzzle game! Look for pairs of matching perfume bottles and click on them to make them disappear. This puzzle game is just like Mahjong, so if you're a fan of online card games you're sure to hit the top score! Have fun, and keep browsing our girls' games for many more challenges!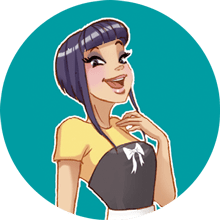 Perfume Puzzle Game is one of my favorites! We clearly have awesome taste! Come and play more of my fave free games!