How to play the game "Parrot Game "?
Sqwawk! We feel a girls' game challenge coming on! A new care centre for parrots has just opened in the capital city. The company is huge, in fact centres have been opened around the world. People compete to work for this amazing company, and you've just been offered a job there! You'll have to be really good in order to keep your job and keep the customers happy...not to mention the parrots! Do you think you're up to the challenge in this free animal game for girls? Read more
This place is so popular that you're bound to have a queue of customers waiting for you as soon as you start work! The hard work is so worth it though when you see how delightful these colorful birds are! Your orders will differ, but you can choose from a full on timed session, or a slower session of eight different steps. This may sounds easy, but beware! Timing is important in this management game for girls, as parrot owners are very busy people. Your first parrot is called Percy, aww! Time to spread your wings and get to work!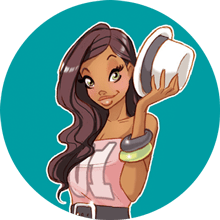 You're clearly loving Parrot Game - you should check out my pick of the best animal games!