How to play the game "Online top model games 4 girls"?
Allison dreams of becoming a top model. To do this, she has enrolled on the Internet as a model to be noticed by photographers. Today, she must submit her application to the site organizer and for that, she needs to submit pictures. A friend has agreed to shoot her pics for the makeup but she needs your talents in this make up game. Read more
By clicking on the various things in the cabinet in this free make up games like this, you'll access Allison's makeup and accessories. At the end of this game for girls, you can see the difference between the old and the new Allison, who has everything a top model should have. You can print your creations if you want to show to your girlfriends, or else move on to more make up games.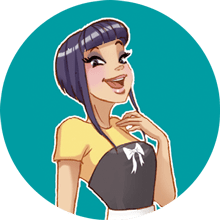 Online top model games 4 girls is one of my favorites! We clearly have awesome taste! Come and play more of my fave model games!