How to play the game "Mulan Makeover Game"?
Mulan is a girl, you've heard of her, right? She has spent a lot of her time disguised as a warrior, so unfortunately, she's not looking too pretty. Now that she has finally met the man of her dreams, she wants to wear her best clothes to go out to dinner with him. How exciting! But poor Mulan. She has spent so long hiding her feminine side that she no longer remembers how to apply make up or carry out a beauty regime, can you believe it? We think it's time for a Disney makeover... Read more
There really is nothing like coming home, taking a bath and getting pampered, even for a Disney princess like brave Mulan! Mulan has lots of new clothes to try on, so she can get back to feeling like herself again. In this free celebrity makeover game you need to choose Mulan's kimono, hairstyle, accessories and make up, but first, start applying those beauty products! Wow, this warrior princess looks like a new girl! Good job.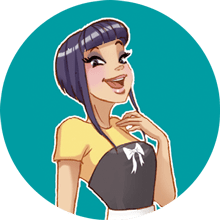 Mulan Makeover Game is one of my favorites! We clearly have awesome taste! Come and play more of my fave princess games!