How to play the game "Makeup for a Bridesmaid Game"?
Uh oh, Marie needs your help! She was partying last night, and it shows. The problem? Today is her friend's wedding day! She needs to be ready for the church, looking gorgeous in her bridesmaid dress...by ten! Hmm. Help her as quickly as you can and get rid of those awful dark circles. She can't be seen in public like that!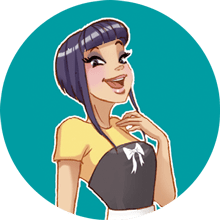 Makeup for a Bridesmaid is one of my favorites! We clearly have awesome taste! Come and play more of my fave wedding games!