How to play the game "Love Tester Dress Up Game"?
Kirsty is so in love with Gerald. She can't stop thinking about him. She thinks about him at night when she's brushing her teeth, in the morning when she's walking to school and all through the day when she should be concentrating in class! She's way too shy to talk to him though. However, in the town center, there's an old love tester machine that is said to be magic. If you hang around there on your sweetheart's birthday, they are sure to appear and declare their love for you! Well, today in this free girls' game, it is Gerald's birthday. Kirsty has decided to go and wait near the old love tester machine and wait for her love to arrive. Aww! Read more
Kirsty's friends are going along with her to help keep her calm. She's very nervous though, and has no idea what to wear. Can you help her get ready for this magical maybe date? Choose from a great selection of clothes, and remember, she should wear something comfortable so she can run into Gerald's arms when he appears! Don't you just love getting to dress up for a date? Do you think Gerald will arrive? We hope so! If you want to take a love test for real, you can find one on the site!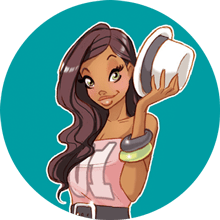 You're clearly loving Love Tester Dress Up - you should check out my pick of the best love games!