How to play the game "Learning About Biology Game"?
How would you like to be a doctor, a vet or maybe a scientist when you grow up? Today we have a special learning game that will help you on your way: you'll get to attend a really interesting biology class and even dissect a frog! You'll need to be really brave in this surprise frog game; shaky hands are no good when you're cutting into a frog with a scalpel, after all. Don't worry if you haven't played girls' games like this one before, because your teacher Belle will be on hand to give you instructions and advice. Read more
The first thing you have to do in this girls' game is secure the frog to the table with some clips, then mark out where you're going to make the incision with a marker pen. Cut into the frog with the scalpel, then use the forceps to open the body. If you'd like to be a vet when you're older, make sure you check out the other animal games and learning games on the site for lots more fun!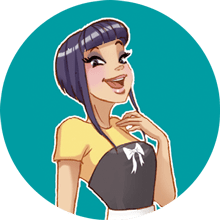 Learning About Biology is one of my favorites! We clearly have awesome taste! Come and play more of my fave learning games!