How to play the game "Lady Bug Game"?
Lady Bug is just a little girl from paris, but with her lucky earrings, she takes on some amazing powers that help her to save Paris from all it's enemies! In Lady bug games she also uses her special powers to do well in school, and to try and find a lovely boyfriend for herself! Lady bug has lost of friends, and in this adventure game, her real lady bug side kick is on a mission, and needs your help. Read more
In these lady bug games, as in other adventure games, you need to use the arrows on your keyboard to guide this ladybug to catch all the balls, then get to the red switch, and finally reach the drop of water in the bubble. Careful not to touch the spikes though!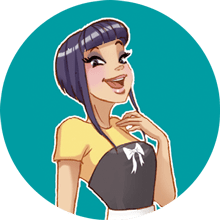 Lady Bug is one of my favorites! We clearly have awesome taste! Come and play more of my fave free games!