How to play the game "Kerry's dance show Game"?
Kerry is a very pretty girl who desperately wants to look fabulous for her dance show. She has been learning modern jazz dance for nearly 7 years already and she has spent so many hours practicing over and over again so that she is ready for the big show! For this makeup game you'll be able to help her choose her hairstyle, clothing and her jewellery. Read more
For her make up you'll have to make sure that the colours match between her contact lenses, her eyes shadow and her mascara. For her mouth, a rosy lipstick will emphasise all these colours in this makeup game for girls. You will also be able to add a bronze hint to the colours be altering the colours. Have fun with this make up game for girls, so that Kerry is the most beautiful for the dance chose! Think about also leaving a comment under the games to let the other girls want to play this game too!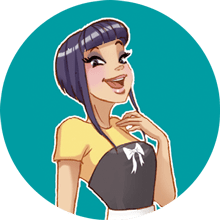 Kerry's dance show is one of my favorites! We clearly have awesome taste! Come and play more of my fave make up games!