How to play the game "iPhone Game"?
Are you the sort of girl who's constantly glued to her cell phone?! Then you're just like our friend Nicola! This talkative girl spends all day texting her friends and all evening gossiping with them over the phone. She's wanted an iPhone for as long as she can remember, so she was over the moon when her parents bought her one for her last birthday! She's always downloading new apps and music for her new mobile phone, and she loves customizing it with different cases, covers and chains. In this dress up game for girls, Nicola is heading to the mall to hang with her friends. You'll get to choose a whole outfit for her day out, including a new cover for her iPhone! Read more
Are you one of the lucky girls who has their very own iPhone? Maybe you're more of a Blackberry or Android sort of girl? No matter what type of cell phone you like best, you'll love this iPhone game for girls! Like all of our dress up games, you can dress up Nicola any way you like for her day out: pink dress, white jeans, green polo shirt... it's totally up to you. Once you've decided on a cool new look for our little chatterbox, you need to pick a cool new case for her iPhone. She has lots of covers to choose from, all in pretty girly covers with cute patterns and designs. Think your friends would enjoy designing a cell phone in this iPhone dress up game? Then text or call them and tell them about it right now! Have fun!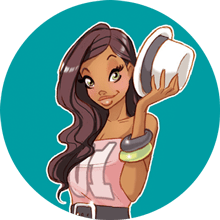 You're clearly loving iPhone Game - you should check out my pick of the best dress up games!