How to play the game "Indian Dress Up Game"?
Kenya, Japan, Hawaii… we love to travel in our girls' games! Today Lilou, Lee and I are flying over to India to visit our friend Shabnam, who lives in the incredible city of Calcutta. This Indian girl is crazy about fashion and loves playing our dress up games, so she's decided to throw a little fashion show for us. Come and check out all her favorite traditional dresses in this India girl game! Read more
India is an enormous country with over one billion inhabitants, and traditional clothes vary from region to region. In this Indian dress game Shabnam is going to show you some of her favorite clothing from across the country: choose from stunning dresses called saris, loose pants and top known as 'Salwar Kameez' or the similar 'Churidaar Kurta'… Shabnam has dozens of beautiful outfits in her wardrobe, all in wonderful patterns and dazzling colors. Have fun, and keep exploring the fashion world through our dress up games!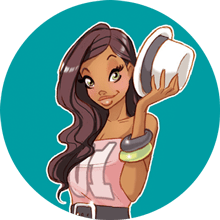 You're clearly loving Indian Dress Up Game - you should check out my pick of the best fashion games!