How to play the game "Hello Kitty Sewing Game "?
Are you girls fans of Hello Kitty? This adorable little kitten is famous all around the world so we bet you've seen her in all sorts of girls' games, but have you ever seen a Hello Kitty cross-stitch? In this girls' games you'll get to try sewing one of your own! Don't worry if you don't know how to sew, because this girl game is super simple: just choose the image you like best, threat your needle, and use your mouse to create your cross-stitch! Read more
You can follow the colors you seen in each picture of Hello Kitty, or change them to give your cross stitch a personal touch. There are six different pictures to choose from and three levels of difficulty. If you like this Hello Kitty game, why not try sewing a cross-stitch picture at home? Maybe your grandma or another relative can help you! Enjoy, and keep browsing our girls' games for more fun!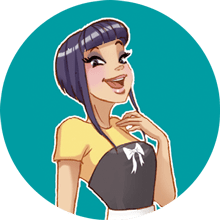 Hello Kitty Sewing Game is one of my favorites! We clearly have awesome taste! Come and play more of my fave hello kitty games!