How to play the game "Graffiti Girl Game"?
Melissa has always been interested in art, and she loves expressing herself. Her school have just started a new graffiti club, where arty girls like Melissa can hang out and spray paint patterns and art onto walls...cool! She knows there's going to be lots of people there to make friends with, so she wants to look super cool and colorful. Can you give Melissa a makeover and help create a style that will help her stand out in this free make up game for girls? Read more
Graffiti is fun, as long as you have permission to do it! It's a great way to get your personality across, but you can also do this with hair and make up! The first thing you'll notice in this cool make up game are the hairstyles...check out those loud colors! Melissa changes her hair color as much as she changes her socks, so she can be pretty hard to please. Make sure you choose a cut and a color that suits her perfectly. Then, move onto make up and jewelry. There are a few different piercings to choose from to help create an edgy style. Don't forget to choose a stylish top for Melissa too...nothing too fancy as it's going to get covered in paint! We think this creative girl looks awesome, let's get graffiti-ing!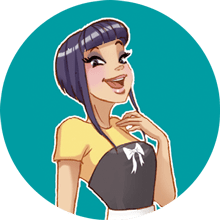 Graffiti Girl is one of my favorites! We clearly have awesome taste! Come and play more of my fave hair games!