How to play the game "Going on a bike ride Game"?
Rebecca is so excited. Her family have just moved house to the countryside! She is missing her friends, so today her parents have arranged a bike ride to go and visit them! The city isn't too far away, but it's a little too far to walk. In this free dress up game for girls, Rebecca needs help choosing an outfit. This isn't like any other dress up game though, because you need to choose a pretty bike for Rebecca too! Read more
As she's used to taking buses everywhere, Rebecca has never had a bike before. She is so happy to finally have one of her own! Help her choose a bike that will match her pretty clothes. And oh, the clothes! There are so many summery clothes to choose from in this girls' dress up game. Don't forget, it's a very hot and sunny day, so make sure you choose a hat for Rebecca that will keep the sun away from her face. She looks gorgeous! Do you like to go on bike rides in the summer? Don't forget to check out our other free dress up games for girls on the site, there are loads to choose from!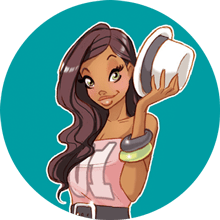 You're clearly loving Going on a bike ride - you should check out my pick of the best bike games!