How to play the game "Dress Up at the Car Show Game"?
Girls, have you ever been to Paris in France? Every year, Paris hosts one of the biggest shows in the world, the Auto Show. All kinds of vintage cars are displayed for people to look at, whether they are professional drivers, car enthusiasts or just normal people! Amanda is a tomboy, and she has been a big fan of cars ever since she was little. Her dad is a mechanic, and she has been to all kinds of races with him, plus she knows exactly how cars work! Read more
Today, in this free dress up game, Amanda is very lucky. She was hired for the week to present some of the cars and conduct demonstrations. What an amazing opportunity, her dad is so proud! The problem is, she needs to dress super smart and a bit more feminine, but she has no idea how! Good thing you've mastered all the dress up games for girls then, because it's time to move up to the next dress up level! A long and beautiful dress will surely do the trick, along with some cute accessories and sublime heels. Wow, Amanda looks like a new woman! We hope she can walk in those heels...how about you? Do you like cars? Share your thoughts in the comments girls!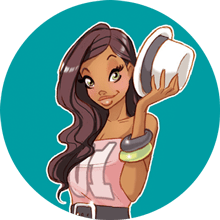 You're clearly loving Dress Up at the Car Show - you should check out my pick of the best dress up games!