How to play the game "Getaway Car Clean Up Game"?
There's a bit of drama going on in this cleaning game for girls! You were innocently walking down the street when a scary robber ran out of the bank with a huge bag of money, uh oh! His getaway car was waiting for him there in the street, but this robber is extremely messy and has left lots of rubbish all over the seats. Instead of cleaning it himself, he's shouting at you to do it, and fast! Are you up to the challenge in this free girls' game? Read more
The robber actually stole this car a while ago, but he still wants to keep it in good condition! You'll find a box for tools and a bin for rubbish in this free girls' game as you clean up. Organise all the mess into the correct boxes as quickly as you can so the scary robber will leave you alone! The quicker you are, the higher your score will be. Would you ever let your car get as messy as this? Would you ever rob a bank? We hope not! Now let's get tidying...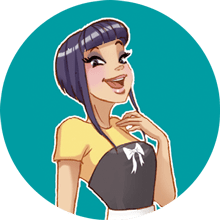 Getaway Car Clean Up is one of my favorites! We clearly have awesome taste! Come and play more of my fave free games!