How to play the game "Funky Makeover Game"?
Becky wants a new look. She has had the same beauty regime and hairstyle for years now, so she thinks it's time for a makeover! She's also finally old enough to start wearing make up, so she really wants to experiment! Becky tends to go through different phases with her looks, at she has decided that she wants to try something really wild and funky in this makeover game...can you help her? Read more
In this free make up game for girls, start out by prepping Becky's skin with different cosmetics. When she is fresh and clean, you can move onto make up application. Remember, this is her first real time using make up, so you'll need to try out every single different combination to find out what suits her and give her the best makeover! Then, the most important part of the game is choosing a new funky hairstyle. Don't you just love getting your hair done? Have fun in this free makeover game, and don't forget to discover more on the site when you're done!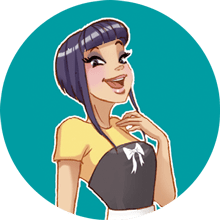 Funky Makeover is one of my favorites! We clearly have awesome taste! Come and play more of my fave makeover games!