Tetris Game
Try to hit the high scores in this retro video game!
The game will be available in a few seconds...
If you love arcades or retro video games then you must have played Tetris, one of the world's most popular puzzle games. Created in the Soviet Union in the 1980s, this simple but very addictive arcade game involves rotating and placing colored bricks in a grid. If you're a smart girl with top logic skills and super-speedy reflexes, you'll have no problem hitting the high scores in this free puzzle game - come and have a go!
Just use the arrows on your keyboard to rotate the pieces and place them in the grid. Once you complete a line, it will disappear and you'll win some points. Try to fill as many lines as you can to hit the high scores in this free Tetris game, but watch out: the pieces will fall faster and faster as the game goes on, and you'll have to play fast! If you love puzzles like Tetris, you'll find tons of girls' games to keep you entertained in the surprise section. Have fun!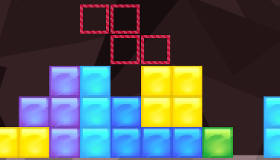 Tetris Game
-
11
votes
Tetris Game comments from girls: