Color in a picture of a pretty princess and her pet unicorn!
Are you a budding artist? It's time to get creative, because in our girls' games you can practise your art skills and create all sorts of multicolored masterpieces! Today you'll get to color in a picture of a beautiful princess and her best friend, her magical pet unicorn! This pretty girl lives in a magic kingdom, so you can color in this picture any way you want - make the sky purple or the grass red, or anything else you like!
If you love drawing and painting, you'll find loads of free art games and coloring games to sharpen your artistic skills and let your creative side shine on this site. Let your imagination fly and have tons of fun coloring in the pictures in this free princess game, and keep browsing the surprise section for more great girls' games!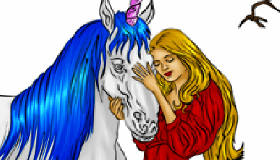 Princess Coloring Game
-
47
votes
Princess Coloring Game comments from girls: