Help this boy and girl enjoy a little kiss while their teacher's back is turned!
Aww, isn't puppy love cute?! Amy has just started dating her very first boyfriend, a lovely boy called Calum. This young couple want to spend every minute together, which is lucky because they're in the same class at school! In this kiss game for girls Amy and Calum are sitting through a very boring class, and this cheeky boy and girl are trying to enjoy a few little kisses while their teacher's back is turned... Make sure they don't get caught in this free girl game!
If you've played online kissing games before, you'll know that you just need to click on the boy and girl to let them enjoy a nice romantic kiss. Let go of your mouse as soon as the teacher turns towards the class - Amy and Calum will be in big trouble if they get caught kissing at school! Have fun, and keep browsing the girls' games on the site for more surprises!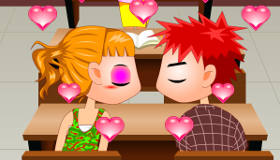 Kissing at School
-
37
votes
Kissing at School comments from girls: