Help Lego pirate Jim find the Treasure of Skull Island!
Lego vikings, robots, dinosaurs, pirates... Lego lets you enter an exciting universe where anything is possible! In this free Lego game you'll be going on an exciting treasure hunt with Jim the Lego pirate. Jim is on a quest to find the legendary Treasure of Skull Island, hidden by his grandfather, Silvertongue Stanley, over seventy years ago. Are you brave enough to help Jim explore the dark dungeons below Skull Castle? Let's get started on this new adventure game and find out if you have the courage of a pirate!
To play this online girls' game, just direct Pirate Jim around the island using the arrows on your keyboard. Watch out for crocodiles and other enemies in this pirate game, and collect gold coins to buy weapons and other items such as treasure maps. This Lego game is just made for brave pirate girls with a thirst for adventure! Check out the rest of the games on the site once you've helped Jim recover his grandfather's treasure - there are tons of mysteries waiting to be solved!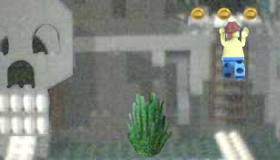 Free Lego Game
-
11
votes
Free Lego Game comments from girls: