Baskup game with Tony Parker
A new basketball game! Try to score as many baskets as basketball pro Tony Parker!
The game will be available in a few seconds...
Bascup is brand new to Mygames4girls.com. In this basketball game, you can train yourself to play and score baskets just like Tony Parker, one of the best basketball players in the world. In this game for girls, you must click and aim to direct powerful shots at baskets of different distances. You must concentrate and shoot with skill as some of the baskets will move. You'll have a great time playing this free Tony Parker game.
If you like to play sports games and basketball games, you will see that there are many more to discover on Mygames4girls.com. And even if you're not a big sports fan, these games are still great fun to play. You'll have a blast playing games with celebrity sports stars like Tony Parker!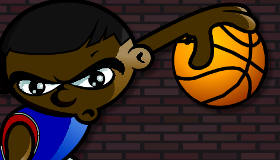 Baskup game with Tony Parker
-
26
votes
Baskup game with Tony Parker comments from girls: