How to play the game "Ellie, the rock star Game"?
Ellie is a really loud fun girl. She wants to be the next big rock star. She's great at the guitar and she sings too. She has friends who play with her in a rock band - now all they need is to get on the TV. Read more
Last year she entered competition to be on TV playing with her band, but she wasn't successful because they said she didn't have "the right look". She was very disappointed but she wants to try again this year. Thats why she needs your help! you have to give her the right look to win the competition and be the next big famous rock star!
She wants you to go down to the shops with her and choose a great rock outfit for a girl, so that she'll look fantastic. She needs the clothes, the hair, the shoes ...and when you're finished with all of that, she's even going to buy a new guitar, to complete the look!
then all you need to do is listen out for the release of her band's new album!!!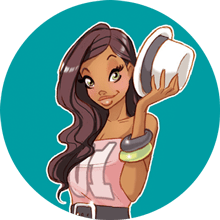 You're clearly loving Ellie, the rock star - you should check out my pick of the best dress up games!