Sport Dress Up Game
Dress up Carla before she goes for a jog in the park in this girls' game!
The game will be available in a few seconds...
It's a lovely sunny day in our girls' games, and our friend Carla has decided to make the most of the weather by going for a long run in the park. Carla goes to the gym with us every week and let us tell you, this girl is in really great shape! As well as being fit as an athlete, she keeps up to date with the latest fashions and trends and always looks absolutely gorgeous, even when she's jogging or working out. In this sports dress up game for girls, you'll be able to rummage through all the sporty clothes in Carla's wardrobe and find a fabulous new look for her!
Carla likes to look good while she's running in the park or working out at the gym, but the most important thing is that she feels comfortable in her clothes. What sort of outfit are you going to choose for her in this sport dress up game? Shorts and a tight tank top so she can run super fast, or something more loose-fitting to let her skin breathe? What type of shoes do you think she should wear and most importantly, what color should they be? You'll get to make all the decisions for Carla in this girls' game and make sure she stands out from all the other joggers in the park! Who knows… maybe she'll meet some cute sports instructor while she's out running! Dress her up with style and don't forget to finish off her new look with a few accessories, just like in all of your favorite dress up games!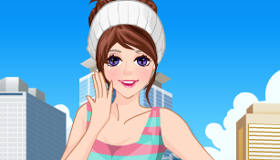 Sport Dress Up Game
-
47
votes
Sport Dress Up Game comments from girls: