Dress Up School Girls Aged 12
Choose new outfits for Chloe and Zoe as they chat in class!
The game will be available in a few seconds...
Do you ever get in trouble for chatting with your friends in class? In this school dress up game you'll meet two 12-year-old girls, Chloe and Zoe, who can't stop gossiping, giggling and telling each other secrets when they're supposed to be studying in school. There's are two new boys in their class today, and the girls have so much to say about them that they don't have time to get changed before their next class!
Have a look through their uniforms, tops, skirts, pants, accessories and shoes and dress up these 12 year olds for the rest of their day at school. Thanks to all the girls' games you've played on this site, you'll be able to make these girls look super stylish in just a few minutes! Have fun, and just use to search bar if you want to find more free school games or other fun girl games!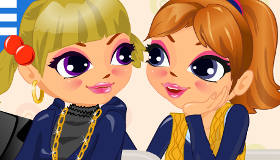 Dress Up School Girls Aged 12
-
78
votes
Dress Up School Girls Aged 12 comments from girls: