Christmas Angel and Devil
Dress up Holly and Humbug, the Christmas angel and devil!
The game will be available in a few seconds...
Holly and Humbug are twins born on Christmas Day, and they couldn't be more different: Holly absolutely loves the festive season, but Humbug can't stand Christmas! This little angel and devil are going to a Christmas party in town tonight and while Holly can't wait to dance and sing with her friends, Humbug is planning all sorts of mischief. Dress up the girls in this free Christmas game.
Holly is a little star who loves playing Christmas games and baking cookies for her friends, but Humbug is a troublemaker with lots of Scrooge-like tricks up her sleeve. Dress up this angel and devil in two very different styles for Christmas, and check back soon for loads more brand girls' games. Happy Holidays!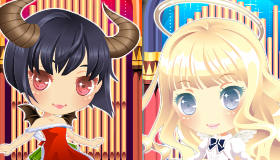 Christmas Angel and Devil
-
25
votes
Christmas Angel and Devil comments from girls: