How to play the game "Dress up the angels Game"?
You know, there are dress up games in heaven too, and in heaven there are angels watching over us. Sometimes they are boys and sometimes they are girls. There are more girls than boys because they are much wiser. But even up in heaven, girls still want to make sure they look great all the time. Angelica has landed in this free girls make-up game and she needs your help to become one of the most beautiful girls in paradise. Read more
You'll be able to change the color of her hair and clothing using your mouse. For makeup, the kit consists of cosmetics for the eyes, face and lipsticks. You can change the color of her eyes with coloured contact lenses that you will find in this funny game for girls. Help her to be the most beautiful angels! And play more funny girls games free here on mygames4girls.com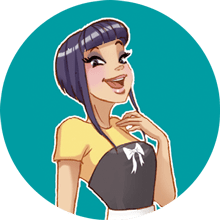 Dress up the angels is one of my favorites! We clearly have awesome taste! Come and play more of my fave make up games!