How to play the game "Dress Up Princess Emily Game"?
Who's your favorite princess? Cinderella? Jasmine? In thisgame, you'll be introduced to a brand new princess: Princess Emily! Tonight she is going to a huge ball at the Palace. She's heard Prince Edward is going to be there, so she needs to look amazing! Emily has a wardrobe full of beautiful ball gowns in different colors and styles, but she can't decide which one to wear. She's counting on you to pick just the right outfit for tonight - and don't forget to add earrings, a necklace and a tiara to make it extra special. Read more
If you've ever dreamt of wearing beautiful dresses and dancing with handsome princes, you'll love this great girls dress up game. Try out lots of dresses and accessories until you think Princess Emily looks absolutely perfect! Remember to check out the rest of our dress up games when you're finished: there are lots of other models and princesses for you to dress up!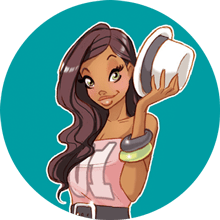 You're clearly loving Dress Up Princess Emily - you should check out my pick of the best princess games!