How to play the game "Dress Up Clawdeen Wolf Game"?
Woo hoo! Clawdeen Wolf is so excited! Why? Well, she just turned 15, and that means that she is finally allowed to have a party! She has invited all of her friends from Monster High, and everyone is super excited. Like any cool party, this one has a theme. The theme is...disguise. Everyone has to make themselves look like a totally different person. The challenge is to then guess who is who! Awesome. Read more
So, as it's Clawdeen's party, she needs to have the best disguise! Her style is normally like her personality...a little wild! So, maybe we should try something smooth and sleek? An easy way to change your appearance is to change your hairstyle. Not only can you chop and straighten her unruly hair, but you can change the color and add some crazy streaks! Finish off her new look with some glam jewelry and cool false nails. She looks like a totally different monster! We wonder if her pals will recognise her?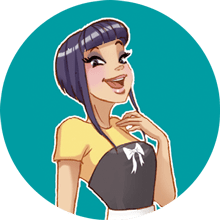 Dress Up Clawdeen Wolf is one of my favorites! We clearly have awesome taste! Come and play more of my fave celebrity games!