How to play the game "Disco Dress Up Game"?
Gabrielle is a typical girl. She works hard all week, but when the weekend comes she just can't wait to get dressed up in her finiest clothes, and go out with all her girlfriends. They do anything an everything at the weekends - they go for coffee, to the movies, eat dinner at a restaurant, but her favorite thing is to go dancing! Read more
This Saturday night Gabrielle is going to a brand new club that has opened, and she's planning to dance all night long. Lots of her friends are going to be there and it's a very important night, so she needs to look her best. Dress up games are great for planning outfits, so take your time to try out all the hot combinations in this game for girls, and then try planing some of our other dress up games. Don't forget to leave a comment below though!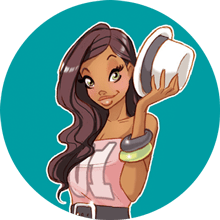 You're clearly loving Disco Dress Up - you should check out my pick of the best dress up games!