Clean and tidy the classroom before the teacher comes back!
This school is in a right mess! Class 4's teacher has been gone for half an hour in this online school game, and all the girls and boys have had a big paper fight, throwing paper planes, pens and textbooks at each other. Now the classroom is in a total mess, and the teacher will be back any minute now! The kids from this school need a girl games expert to help them clean and tidy the classroom before she gets back, or it'll be detention for a week!
This school game is a lot like our free decorating games; you just need to put everything back in its proper place. Click on the question mark to see a photo of what the school room looks like normally, and be quick - time is running out! Want to have more fun after school? Keep browsing our girls' games for lots more surprises!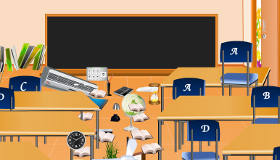 Cleaning Up at School
-
167
votes
Cleaning Up at School comments from girls: