How to play the game "Crazy Hair with Miley Cyrus Game"?
Comb? Check. Hair dryer? Check. Scissors? Check. Great, you're ready to give Miley Cyrus a brand new look in this hair game for girls! The Hannah Montana star girl is bored of her famous blonde hair, and she wants you to give her a crazy new style before her next big show. If you've ever dreamt of being a hairdresser or a celebrity stylist, you can give it a try in this Miley Cyrus makeover game! Read more
Blowdry, dry, cut and shave Miley Cyrus' hair any way you like in this celebrity game. What sort of hairstyle are you going to choose? Short and punky, long and girly, with bright pink streaks or cute curls? Don't worry if you make a mistake, because in our girls' games you can make her hair grow back in just a few seconds! Want to play more Miley Cyrus games with the famous Hannah Montana actress? Check out the celebrity games section, you'll find Miley and lots of other star girls there!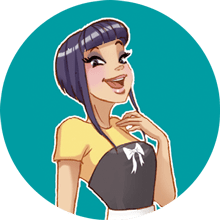 Crazy Hair with Miley Cyrus is one of my favorites! We clearly have awesome taste! Come and play more of my fave miley cyrus games!