Cooking games : mexican tacos
Learn how to make delicious Mexican chicken tacos in this cooking game for girls!
The game will be available in a few seconds...
Today Mexico is the guest of honour at the girls games table! You'll be learning about a delicious Central American dish: tacos! Do you have a taste for adventure, even in the kitchen? Does the idea of trying exciting new flavors make your mouth water? If so, you'll love this fun Mexican cooking game - and what's more, you'll get the chance to learn a great new recipe. Our chef Louisa will let you in on her culinary secrets and teach you how to prepare chicken tacos in this great girls cooking game!
Tacos are normally stuffed with meat, fish or vegetables, but lots of other ingredients can be added too - with a dash of that famous spicy sauce, of course! In this cooking game, you and Louisa will prepare tacos fit for a genuine Mexican restaurant. Follow the instructions carefully to learn how to cook a real Tex-Mex meal! You can find tons of other girls games featuring recipes from every continent in the Cooking Games section. Give your eyes and your taste buds a tour of the globe - enjoy!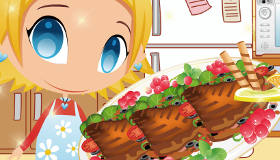 Mexican Tacos
-
204
votes
Mexican Tacos comments from girls: