How to play the game "Colour in Candice's Bathroom Game"?
With this colouring game you'll discover a wonderful world full of so many colours! You'll transform this simple black and white picture into something close to real life! Read more
Candice is having her bath, but everything looks so boring. Everything is white! Think about your bathroom, or your friend's bathroom...or maybe the way you've always wanted your dream bathroom to look like...and then start colouring! There are lots of details you'll need to think about - what about her towels, the soap, the floor and the wall tiles...!!
Just click the paintbrush onto the colour that you want to use, and then click the part of the picture you want to colour in! It couldn't be easier! Have a go, and see what a wonderful interior designer you could be, or maybe just a world-class painter!
There are lots more games like this on mygames4girls, so if you like these girls games, look around this website and see what other super games you can find!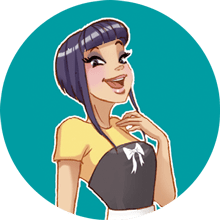 Colour in Candice's Bathroom is one of my favorites! We clearly have awesome taste! Come and play more of my fave coloring games!