How to play the game "Chewing Gum Bubbles Game"?
Use your keyboard keys to move around and use the space bar to inflate your bubbles of chewing gum! Be careful and pay attention to your time levels and your objectives, because you also need to watch out for corners and objects, and even teachers and students who are moving around you! They can't get in the way of your bubbles or the game will be over.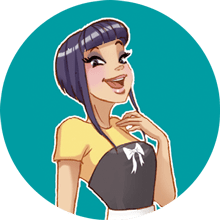 Chewing Gum Bubbles is one of my favorites! We clearly have awesome taste! Come and play more of my fave free games!