Dress up the cute fairy girls from the Winx Club!
We've got a treat for you Winx fans: a dress up game starring Stella, Flora and Bloom, a.k.a. the Winx Club! These fairy girls love going on fantastic adventures around the Magical Kingdom, and in this Winx dress up game they're going to an extravagant ball at an enchanted castle at eight o'clock tonight. Help them choose the most beautiful dresses in their wardrobe and make sure these three girls are the prettiest fairies at the party!
We know girls aged eight or so love the Winx fairies, so you'll find loads of dress up games starring Stella, Flora, Bloom and the rest of the girls in our celebrity section. Have fun, and make sure you keep browsing the girls' games on the site for more fun with the Winx Club fairies - there's loads of fun for an 8-year-old girl on this site!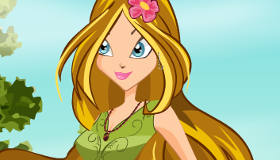 Winx Game for Girls Aged 8
-
85
votes
Winx Game for Girls Aged 8 comments from girls: