Winnie the Pooh golf game
Tee up with Winnie the Pooh and friends in this online golf game!
The game will be available in a few seconds...
Do you enjoy online sports games? Do you like playing games as your favorite character or celebrity? Then you'll love this new Winnie the Pooh golf game just for girls! Have fun teeing off with your favorite silly old bear or tiger-rific friends!
To play this girls game, first choose from Winnie the Pooh, Tiger or Piglet. Then you must aim carefully and click your mouse all the way back to execute the most powerful shot. It isn't easy to make a powerful stroke, so you must make sure you are using full force to launch your ball into the hole or as closely to the hole as possible. As in ordinary golf games or miniature golf, the object of the game is to get your ball into the hole with the least amount of strokes possible. Try to improve your score with this sports game.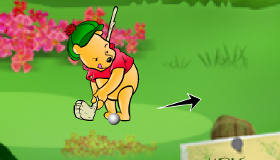 Winnie the Pooh golf game
-
120
votes
Winnie the Pooh golf game comments from girls: