Nicki Minaj Diva Fashion
Dress up the 'Starships' rapper and singer for her next big show!
The game will be available in a few seconds...
If you like rap and R'n'B, you'll know that Nicki Minaj is the hottest girl in music right now! This American singer and rapper is famous all over the world for her awesome raps, catchy hooks and crazy costumes. Come and help this diva girl get ready for her next big show in this celebrity fashion game!
Nicki Minaj is a real diva and loves fashion, so you'll find loads of colorful clothes, amazing hairstyles and glamorous accessories to choose from in this celebrity dress up game. Have fun playing dress up with Nicki Minaj as you listen to one of her top hits, and keep browsing the girls' games on the site for more fun with your favorite singers and actresses!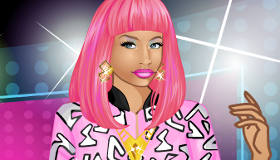 Nicki Minaj Diva Fashion
-
235
votes
Nicki Minaj Diva Fashion comments from girls: