Decorate terrifyingly tasty ice creams in the Monster High laboratory!
How many free Monster High games have you tried so far? Which is your favorite? Here at MyGames4Girls we've decided to surprise you today with a trip to the Monster High laboratory! Here in the lab, the most monstrous boys and girls around so all sorts of experiments... guess what they're working on today? Don't worry, it's nothing scary - they're decorating Monster High ice creams!
Come and check out all the terrifying tasty ice creams you'll get to sample with the Monster High girls in this decorating game: dripping chocolate sauce, candy skulls, licorice spiders... there are loads of creepy treats for you to choose from in this ice cream game! Have fun creating a monstrous ice cream sundae in the Monster High lab today, and leave us a comment to tell us what you think of our Monster High games. Have fun!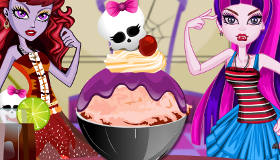 Monster High Lab
-
192
votes
Monster High Lab comments from girls: