Katniss from The Hunger Games
Dress up Katniss before she heads into the arena in The Hunger Games!
The game will be available in a few seconds...
Strong, brave and gifted with a bow and arrow, Katniss Everdeen is the young heroine of The Hunger Games trilogy. If you've read the Hunger Games trilogy or seen the movie starring Jennifer Lawrence, you'll know all about the talented girl who fights for her live in a brutal tournament called The Hunger Games. In this celebrity game for girls, you'll get to relive your favorite moments from the movie and dress up Katniss Everdeen for her debut in the Hunger Games arena!
In this dress up game you'll find loads of the outfits that Katniss wore in The Hunger Games: her mom's blue dress, the uniform she wore when she was training with the other tributes, and even flaming costume that earned her the nicknamed 'The Girl on Fire'! Have fun being a stylist for Katniss in this Hunger Games dress up, and makes sure you check out the rest of the girls' games on the site for more fun with your favorite stars!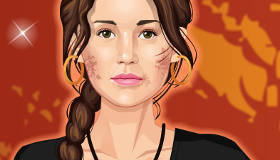 Katniss from The Hunger Games
-
64
votes
Katniss from The Hunger Games comments from girls: