Barbie's Horse
Barbie's horse needs a makeover!
The game will be available in a few seconds...
Barbie's horse needs a makeover!
Do you have tons of Barbie dolls at home? If you've been collecting and playing with Barbie since you were a little girl or if you love watching the famous doll's adventures in movies or on TV, you'll know that she has an amazing horse called Pegasus. In this horse dress up game you'll get to meet this gorgeous pink pony and even transform her into a unicorn - nothing is impossible in our girls' games!
Our celebrity games let you meet and play with loads of your favorite characters, just like in this free Barbie game. Whether you want to play dress up games, give her a makeover or play with makeup, you'll find tons of online Barbie games on this site! Why not go and play with Barbie and try some more activities once you've played this Barbie horse game? Have fun!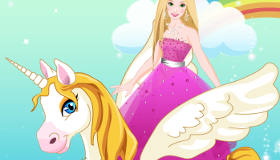 Barbie's Horse
-
406
votes
Barbie's Horse comments from girls: