How to play the game "Buttons Puzzle Game"?
They're normally used for tying clothes, purses or handbags, but buttons can be fun to play games with too! This girls' game stars Addy, whose mom is a seamstress at a dress shop. Addy really likes helping out and working at the store, but she's a bit clumsy - she's always knocking the pots of buttons over and spilling them all over the floor! Read more
The aim of this girls' surprise game is to help Addy sort the buttons and put them back in the right pot as fast as you can. You'll need to collect all the buttons before the time runs out, or her mom will be cross! To play this easy puzzle game, just click one button and drag it to the others of the same color. Make sure you don't knock into any others, or they'll scatter all across the screen and you'll have to start again. Have fun with this colorful surprise game, and make sure you come by our forums to say hi when you're done!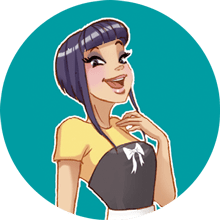 Buttons Puzzle Game is one of my favorites! We clearly have awesome taste! Come and play more of my fave puzzle games!